Poems by Rhoda Michael
'Step by Slow Step'
(Illustrations by Julie Wyness)
Price: £9.50 (R.R.P. £7.50 + P&P)
UK buyers can click the button for a single copy at £9.50 including P&P.
If you live outside UK, require multiple copies, or are making a trade enquiry, please email jw@juliewyness.com.

'Rhoda Michael is a true poet, and this is a lovely, sometimes challenging, gem of a book.'
Ian Crockett
'In 'Step by Slow Step' Rhoda Michael harnesses the power of language to engage our senses and our hearts and minds.'
Chris Powici
'These are love poems, erotic and direct, gentle and specific. These are meditations on reality, the pain and joy of life.'
George Gunn
'This poet can move from ballad to meditation. She has the gift of looking until sight becomes insight, painted in words.'
Ian Stephen
'There is a vibrant and compelling urgency in the uncluttered vocabulary of this poet.'
Stuart Campbell
'Rhoda Michael is one of Scotland's unsung geniuses.'
Cynthia Rogerson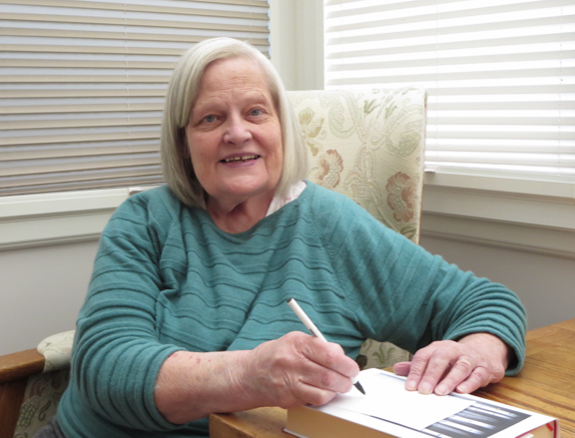 Rhoda's Bio
Rhoda Michael grew up in Beauly and returned to live in the area after many years working as a psychologist in Edinburgh and Grampian. She set up Riverside Writers Group in Inverness in 2000. The following year she joined the team of Northwords literary magazine as poetry editor.
In 2007, Northwords faced an uncertain future. Rhoda assumed the editor's mantle, changed the name to Northwords Now, and oversaw its transformation into a Scotland-wide free publication.
She retired from editorship in 2011 and thereafter focused on her own writing. Over the years she has gone on to receive many awards and commendations for her work.